Stevenage Minibus Hire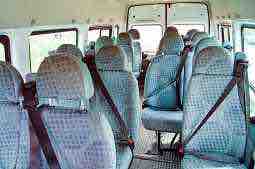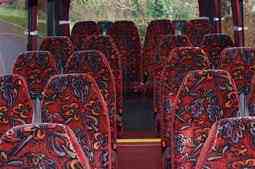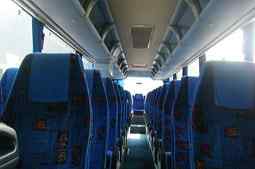 Stevenage – HOME 
Welcome to Stevenage minibus hire services. We offer the best fleet of minibus and coaches for hire in and around the SG postcode area. Our services are a cut above the rest in terms of the superior vehicles we provide, the quality of our service, our low rates, and our sheer professionalism. We offer comprehensive services that you cannot get elsewhere.  
 
We have a large fleet size of Ford Transit, Mercedes 16 seater, Volvos, and Iveco coaches, and we always overhaul our fleet. We do not consider purchasing new vehicles as an extra cost. Rather, new vehicles deliver improved mileage, and require lesser maintenance, which soon pay back for itself. It also ensures our customers always have access to the most modern, and the best vehicles available, making our Stevenage minibus hire services the preferred option.  
 
We also make it a point to load all our vehicles with the most modern accessories, and also service the vehicles at regular intervals. For instance, our internal systems ensure each vehicle undergoes thorough checking and cleaning before the start of each trip, so that there is no chance of glitches on the way. 
 
The services we offer are unmatched by competition. We have a 24 hour customer support help desk, manned by competent professionals, who are always ready to help you in any possible way. You may approach our customer support team to book a vehicle, get custom quote depending on your budget and requirements, make changes to your itinerary, arrange for special inclusion, such as you choice of movie, follow up on appointments at your destination, coordinate pick up from various points in Stevenage, or anything else. We are very flexible, and moreover have very easy and seamless systems in place. Doing business with us is very easy, and not at all disruptive to your schedule. 
 
We have carved out a high reputation for reliability, and we go all out to maintain it. You can be rest assured the vehicle will turn up at the stated time, complete in all aspects. Reliability is critical for airport transfers and several other purposes, where even a few minutes delay from the cut off time can have big implications. 
 
You are sure to have a pleasurable experience on board our coaches as well. Powerful air conditioning, wide, plush seats, ample leg space, adequate luggage space, the best DVD player, and more, are all standard inclusions in our vehicles. Our drivers are skilled, experienced, resourceful, and intelligent, who ensures you reach your destination in double quick time, without taking any risks. They are well trained in customer care, and are familiar with the local routes. 
 
We offer unbeatable value, with the lowest rates, for the best services. Our economies of scale, seamless systems, and superior vehicles, keep costs low for us, and we pass on to the savings to you. Our competitors, who have not yet reached our level of expertise are unable to offer such low rates, and still remain viable. 
 
Stevenage is 32 miles from central London and 29 miles from Cambridge. The town offers several attractions, such as Fairlands Valley Park, Benington Lordship Garden, Knebworth Gothic country house, and Cromer Windmill. The Fairlands Valley Park is sprawling parkland, with a lake, and offering plenty of opportunities for motorboat sports, sailing, paddle boats, dragon boat sailing, and more. The Benington Lordship Garden is noted for its rich seasonal biodiversity. The Cromer Windmill is Hertfordshire's last windmill, and a unique attraction of its own. The Knebworth house, besides being an enchanting manor set amidst the rolling countryside, is also a major concert venue. The park comes with a maze and dinosaur trial. The British School Museum in nearby Hitchin offers an educative experience as well. The Welvyn Roman baths are not too far away either, offering visitors a chance to get experience history firsthand.  
 
There are several theme parks in the vicinity. The North Hearths Leisure Centre is an exciting days out option for families and children, with its wave pools and other water based attractions. The Ryeassic Adventure Park, 13 miles away, offer several exciting indoor and outdoor plays. The Paradise Wildlife Park is the best interactive zoo in UK. The Sherpith Wildlife Park is another natural attraction, with a rich collection of flora and fauna. 
 
Stevenage is strategically located in South England. The delights of London are not too far away, and neither is stately Cambridge and Oxford, two university towns. The Rowley Mile racecourse is around 40 miles away. Those looking to hit the sea can reach Frinton on Sea Beach, 58 miles away. 
 
It takes dedicated minibus hire in Stevenage for your group top reach these places, in comfort, while keeping your time schedule at the same time. We offer such vehicles, with complete experience. Hundreds of customers who availed our Stevenage minibus hire services have been left totally delighted by the experience, and always recommend our services. We are the number one provider in the region, with our fleet in high demand for airport transfers, visiting racecourses and golf clubs, for birthday parties, days out trips, sightseeing trips, school and college excursions, for attending concerts, for stag do and hen do trip, for other nites out trips, and a host of other purpose. Several corporate groups retain us on a regular basis to transfer their staff, ensure transportation for conference delegates, and other purposes. 
 
Read through the reviews and testimonials left by our customers, and reserve your minibus hire today. 
 
WHY CHOOSE US
Coach Tracker
Flights monitor at all airports
Manage your booking
Printer friendly tickets
G.P.S System
Specialised GPS system Pick you up on time
Timetables
Excellent time keeping
Avoid train delays
Switch to coach to avoid rail disruption
Save money
Save money on all coach sizes
Travelling with us
Voted number 1 for customer service
Luggage capacity
All vehicles have luggage capacity depending on the number of people
---
Online Exclusives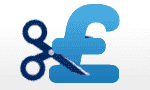 Lowest Rates Guaranteed save money on all sizes coaches.
Creditcards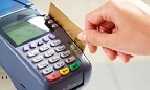 All Credit Cards Accepted
( charges may apply )
Business Accounts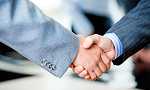 Business Accounts and Contract Work welcome.
Travel to Europe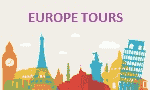 Travel to Europe- All inclusive
24 hours service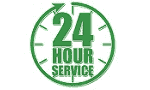 24 hour service 7 days a week.
Airport transfers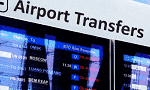 Airport transfers Free parking included at all airports.